First quarter report cards... CHECK :) Mental breakdown... CHECK... 3 day weekend... ALMOST THERE.
Here is a little peek at what we've been doing in second grade.
In reading we have been working on literary elements and sequencing.
We did a mini unit on the 3 little pigs and different versions of the story to learn about literary elements and compare and contrast. The kids LOVED the different versions. An extension could be to have them write their own version, but in November I'm pressed for time and they are already working on a pretty darn cool writing assignment (look forward to a future post about it!)
Today we did a sequence wheel using Fancy Nancy's Late, Late Night. The kiddos adore Fancy Nancy (which is a fancy word for LOVE). I'm going to have them make their own tomorrow using a brad so the wheel moves. Here are directions for making a
story wheel
.
Next up.... Social Studies!
We have been learning about Election Day. To understand things a little further the kids worked on a Candy Campaign. I randomly paired the students and they drew a type of candy out of a hat. Their assignment was to convince the school to vote for their candy by creating a campaign ad. Oh My Sugar they were adorable. I received so many compliments from other teachers and parents because they REALLY got a lot out of this project.
In case you can't read the ad..."We love skittles because there a bargan at Price Chopper. We love Skittles because there chewy and they make your stumick rumble for more. The s on it means really sweet and super. Never eat any other candy then Skittles. Trust us there the best. You people better not eat any other candy then Skittles."
Is that not hysterically awesome?? I don't know about you, but I'm convinced that I want some Skittles right now!
Grah, and I forgot to take a picture of our Veterans Day poster. We made a big poster to thank the Veterans since my school is hosting a breakfast tomorrow. Basically it is the hand print turkey seen below but huge with lots of hands and their red, white, and blue and the center says "Mrs. Leander's class is thankful for Veterans." I'll try to remember to take a picture. It came out great!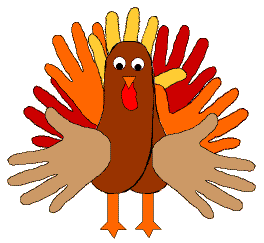 I struggle with the second grade science curriculum because it's not very hands-on, so I am constantly trying to find ways to make it interesting. Anyways, we are studying habitats so we started the unit off with the Woodland Forest. We learned the different parts to the forest and where certain animals can be found. The art work is all me, not my husband! I've become very independent this year.
And lastly, I got these from Oriental Trading. They make the room POP!